We all know that the first impressions are the most lasting and that we start to greet people according to their clothes. Still, some believe that such evaluation is wrong, but the things we wear are not trifles. Looking at them, one can describe a person, his or her life and character very exact.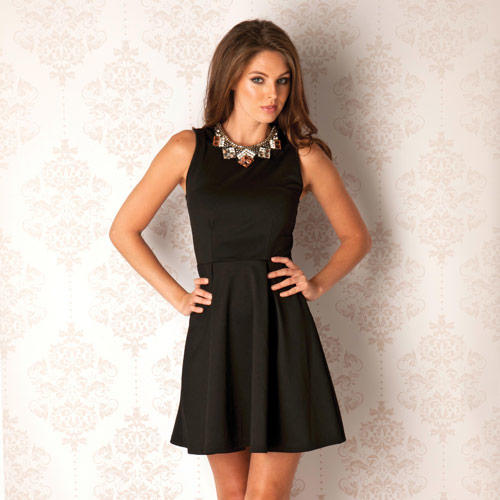 It is commonly believed that fashion is built on a particular iconic concept that stays unchangeable while everything else is variable. A little black dress is one of them, it is said to be a necessity of every woman ("A Little Black Dress"). It was in fashion for a long time and seems to remain forever. That is why I have chosen it; this dress gives me an opportunity to keep up with the fashion easily.
There is a huge number of its types, so it is possible to find the one that will suit a particular person. It can be low-necked or shoulderless, with sleeves or without, open at the neck or high-necked, with a cutout back or with back-zipper (Gessner par. 2). I have taken the one that accentuates my figure and draws people's attention away from some parts of my body that I want to improve. The belt on the waist also makes me look slim.
Moreover, one and the same dress can look appropriate for different occasions. For example, a jacket worn with this dress makes a look a nice variant for daytime while accessories and jewelry help to turn it into an evening garment. I believe that wearing a little black dress I seem to be calm and moderate, but also soigne.
In order to convey femininity, women all over the world wear dresses. It is the best variant for those who want to improve their appearance and make it more womanish. To my mind, a dress helps to avoid the masculine effect that occurs when I put on baggy clothes. With the help of a dress I can make the body curvier, which enhances my self-esteem.
The colors one wears have a great influence on the person and people around, they can even change the mood. It must be acknowledged that black clothes are not the best variant when you are going to work. Black shows that one is depressed, lazy or exhausted (Mandell par. 1). However, I prefer to believe that is color is a classic one, it suits everyone and makes people look elegant and sophisticated. Historically, we associate black with mourning, it is an ascetic color that makes people look strict and reserved.
As it was difficult to get with natural dyes, black reminds about luxury, as it connoted good social status. In the 18th century, it was thought to be dowdy and represented people of the middle social class. Black came into fashion as a gorgeous color for an evening dress in 19th century. It revealed the spirit of pride and recalcitrance at that time.
Consequently, a black dress includes a number of associations that were created through a long period of time, which make me feel enigmatic. Today we have a mixture of elevated and down-to-earth elements. The ability to combine contrasting ideas in the appearance makes this dress extremely attractive. It makes me look as if chic and sophisticated clothes are those I wear on weekdays in everyday life (Gessner par. 6).
According to Nancy MacDonell-Smith a black dress is a symbol of one's individuality, which shows that a woman took a decision to live the life by her own code (37). This message is the one that appeals to me, and also I wear this dress in order to reveal it.
Today a little black dress is already a term of our cultural vocabulary that everyone knows. Say it, and the image of an elegant woman with a good dress sense appears in the mind without efforts, which makes me feel special. This dress is a weapon that can easily change my appearance and mood, make me embraceable or demure, impudent or frugal.
It is interesting that this dress is adored by women so much that they even created The Black Dress Society. This is a ladies social club, which gathers women to visit upscale events, participate in charity work, and deepen into the arts.
To get assistance on this or any other related assignment, Click here for professional help.. 
A little black dress is a cross functional element of women's wardrobe. Depending on the clothes and accessories I wear with it, my style changes. It may vary from slangy to conservative. The type of fabrication also plays a huge role in the created image. According to the normative order, this dress is sure to be considered as a normal and decent. It is the golden mean between ordinariness and remarkability.
That is why it is the best way to show that I can easily stay in sync with the changing fashion. Wearing a little black dress, I can look wonderful in every situation, which attracts other people's attention and prepossess them. At first I put it on as I wanted to change the style. This dress can be combined with different items and alter its message in such a manner. Thus, the dress erases the boundaries and limits and allows me to express myself, so I believe it to be the best variant for a dinner or party.